Sunday, November 07, 2004
Hot Potato
لن يقول لنا الصحافييون المتحذلقون أن ذلك خطأ، ولن يدان هذا التعذيب كما أدينت
عملية عرقلة السير(الإرهابية الكبرى) وكما أدينت عملية قذف الحجارة (البربربية
الإجرامية الوحشية!!) لن يقولوا ذلك، وسيعتبرون هذه الإجرءات تطيباً لخاطر الناس،
وليست تحشيداً وتصعيداً في الموقف وتحريضاً مباشراً.


Back to domestic politics. Things arnt looking too good, and I'm actually starting to get worried. It seems that this post-mithaq era isn't stablising at all, and no 'they lived happily ever after' ending is in sight. Reports are circulating now that Khawaja who was going to boycott this morning's court sitting, was carried forcefully to court. He showed the marks of severe physical torture on his face and body. Upon removing his shirt to show the judge the marks of torture, the judge swiftly issued him with another charge of undermining the judicial council, and postponed the sitting to 21st November. It is not Khawaja that is on trial, but freedom of speech. What happened to "I may not agree with what you have to say, but I will fight to the death your right to say it." -Voltaire. All of a sudden, when Khawaja said something nobody liked, this statement went out of the window.

Everyone was expecting the King to come to the rescue and issue a Royal pardon by Eid, but seems like good old uncle K isn't having it. Unfortunately this really does show that an old dog doesn't learn new tricks. Cosmetic changes to the system are starting to wear away. The new Interior Minister is as incompetent as the old one, as it is clear he is continuing the same old stone-age policies of commanding his Pakistani and Yemeni troops in the Bahraini Public Service to clampdown on protestors. The same methods of torture and arbitrary arrest, and now more laws to tighten public gathering and demonstration. All I can say is so much for freedom of speech in a country where the Chair of Parliament Dhahrani says that "if I was in the governments place, I would have ended the protests with a bulldozer".

In addition, across the country in the past few days, anti-PM slogans were shouted in all the religious festivities like the Imam Ali processions and even in the Laylat alqadr supplications. I was there and trust me, people are not happy, the wave of backlash has gone beyond the control of the Opposition figures themselves. People defied Sh. Isa Qassim's (the leading cleric in Bahrian) calls to not protest. Just see the type of signs people are scrawling every where in the photos below: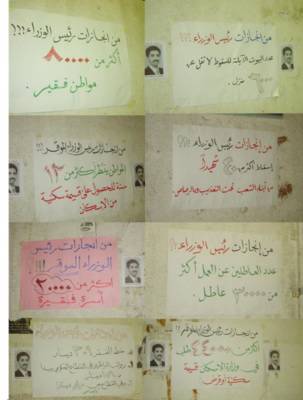 The posters say:

Some of the Prime Ministers achievements:
-more than 80,000 poor people
-No less than 6000 homes are verging on collapse
-A national has to wait more than 12 years to get a council house
-the loss of 40 martyrs
-more than 20,000 families living under poverty
-Poverty line is set at 309BD. Whereas the starting salary for a national in the public sector is 159BD and in the private sector 80BD.
-more than 44,000 applications pending in the Ministry of Housing for a council house or loan.
Khawaja is indeed proving to be a political hot potato for the government. On the one hand, they want to severely punish him for what he said, thus they want to keep him locked up and reprimanded, and condemned for the longest sentence possible, sending a message to others. However, this line to Khawaja has backfired massively as every single international Human Rights organisations has condemned the arrest. It has proved a public relations faisco. In addition, a long drawn out trial isnt in the interest of the government either, since in trying Khawaja for his statement that the PM is the root of corruption in Bahrain, Khawaja's 12-strong defence team will also be putting the PM on trial, and proving that indeed the PM is the root of corruption. Apparantly, BCHR is in possession of some sensitive papers that would severly embarress the government.
Another solution, is to get naughty Khawaja to say sorry to good old Uncle K for being rude to him. There have been countless intermediaries sent to put pressure on Khawaja to sign a public apology and backdown from his remarks. And trust me, in this country, when the government puts the pressure, it is really hard to resist, as it uses every tactic in the book, the carrot and the stick, to force you to do as they want. Judging by Khawaja's previous stands, this man will not back down voluntarily. However, under torture every man breaks.
On the other hand, if they release him, he will seem to have won, and in this country, the Alkhalifa are 'untouchables', u cannot question them, you cannot critisize them and you cannot confront them. Alot of people also believe in this 'do not bite the hand that feeds you' situation. The issue is that they are not 'feeding' enough, otherwise, Bahrainis wouldnt bite.