Sunday, November 21, 2004
Update: The Verdict-The clemency
من يحاكم من ؟؟؟؟ - who is trying who??
The
Khawaja court case
, by putting one man on trial, has reflected the complexities of the political situation in Bahrain, the independence of the judicial system, freedom of speech, corruption, and has increased the street's demand for the resignation of the PM. We called him stupid for saying what he said, but in bringing these important issues to surface, he is in fact the one that has put the government on trial.
This trial was a sham. I totally agree with the reasons he boycotted the trial. As I understood he is unlikely to appeal. How can you defend yourself in a judicial framework that is flawed in essence, not independent and politically driven? Trials are a mere theatrical play with the outcome decided in advance. Speak to any Bahraini lawyer and they will tell you that.
The irony is that Khawaja has been found guilty of inciting hatred of 'ni'9am al7ukm'. Now ni'9am al7ukm literally translated means system of governence, but in arabic it also means the governing regime which implies Alkhalifa-the ruling family. Khawaja is saying that he directed his remarks not at ni'9am al7ukm (regime) but at the 7ukooma which is the government. This distinction is extremely sensitive and thin. Now the Alkhalifa are both ni'6am al7ukm (the regime) and the 7ukooma (government) since the Prime Minister is a Khalifite. So this means that you cannot question the government headed by Khalifa bin Salman since you will also be questioning the regime at the same time, what kind of constitutional monarchy is this???
It is unfortunate that Mahmood.tv has decided to shut his blog down. He realizes that blogging under his real name, although courageous, means that he will be held accountable for every word that is written there and can face severe consequences for doing so. My advice to him would be, since you have put so much effort in the blog, maybe you should carry on blogging but stick to the topics you have comparative advantage, like cars, your pet dog and even international politics. Unfortunately, those who want to seriously tackle domestic political issues in Bahrain will have to do so under an anonymous name. I expect that from this day on, most political activity will go underground, most human rights files will operate from abroad. And this struggle for freedom will continue for a long time to come.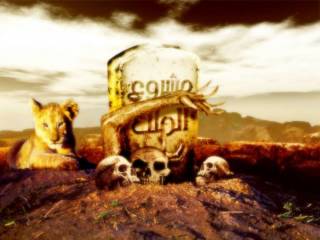 Indeed the political regime in Bahrain itself is finding it difficult to reconcile its tribal mentality with modern day notions of democracy, its main protagonists taking on different roles on a frequent basis, one day emerging as the champion of the people, a demigod, the generous benefactor, another day as a shrewd Saddam-like despot and another day as the victim, according to which the tone of voice and lines change to suit these roles. But at the end of the day, when the costumes are taken off, the true colours of tribal Machavellian rule are revealed. Although the hope remains that a new King would bring with him a new progressive outlook, I have to agree with
Thomas Paine
when he says:
One of the strongest natural proofs of the folly of hereditary right in kings,is, that nature disapproves it, otherwise she would not so frequently turn it into ridicule by giving mankind an ass for a lion.
The people of Bahrain, have been struggling for over a century to change this balance of power. It is safe to say that no one wants a return to violence and and over the past few years, the street has perfected and understood the methods of peaceful protest and civil disobedience in airing their frustrations about this balance. But they are yet to define a leadership strong enough to rise up to the challenge.
________________________________
So King Rambo has intervened and deigned upon us one of his oh-so merciful clemencies (like he did with 100+ convicted criminals in Ramadan), and will release Khawaja and the other prisoners by a 'makrama malakia'. Overriding the judiciary like this just shows that everything that happens here depends on the whims of the monarch, even our 'democracy' depends on the whims of the monarch. This is indeed extremely insulting, dare I use a quote posted on
Mahmood's blog
:
"As long as you are ruled by men and not democratic institutions which draw their just powers from a Constitution, you will suffer the insult of the monarch's whims." Steve the American
Such whims which determine the future political destiny of an entire population, such whims which lead to amendments to the constitution as the monarch pleases, such whims which are out of date in a modern state.
Someone please tell Rambo, that it is too early to play Santa Claus, and that this pantomime is getting boring, we need new actors.
For those who dont agree, I suggest you have a nice hot bath, a cup of cocoa and go back to bed.