Wednesday, March 16, 2005
Quick round
I've always thought that there was no biological explanation for yawning. Fortunately for the sake of humanity, important research is being carried out on the yawn. Damn you Freud, there is just no escaping you.
At last we have a stunning celebrity emerging in the middle east; young, good looking, with a PhD AND a motor racing champion: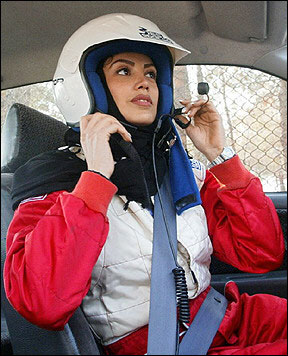 ......with a perfect set of nails to top it all off. Our very own 2-in-1 Angelina
Jolie+Schumacher.
I can now officially declare that I have been a witness to this crime. Sitting have a coffee at St Mark's Square in Venice, I saw a pigeon being chased down and raped. The perpetrator had spent a good part of half an hour chasing the victim, much to our amusement. When the alleged rape took place it was just too quick, leaving no time for me to intervene. I thought it was pretty entertaining. Since then i've been on the look out for this kind of activity, and last month saw a duck being raped underwater. On this particular occasion however, I ran to the victims rescue, flailing my hands in the air. When this crime is carried out in mid-air, it is adviced that helicopter services be called in.
Interview with Ali Abdulemam in today's Alwasat paper. Seems the main difficulty they faced in their questioning was explaining basic internet concepts to a bunch of technically inept officers and making them understand that they can only omit material posted in the site only AFTER it is published online, and since Bahrainonline.org has been blocked by Batelco for 3 years they do not have sufficient timely access and hence cannot control it adequately.
Political activism can cost you alot in Bahrain especially if you're in a government-controlled institution.