Saturday, October 30, 2004
Happy Gerga3oon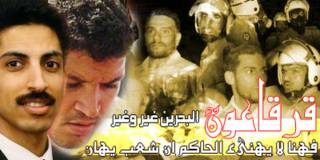 Not quite the Ramadan we expected
In the middle day of Ramadan, it is general custom for kids to go out in the streets to celebrate and go 'trick or treating' around the neighbourhoods. The kids on the street today were protestors calling for the release of Abdulhadi Khawaja. They decided to knock on the Kings door:
Trick or treat?
Treat: Release Abdul Hadi Khawaja
Trick: Tear gas and rubber bullets, 21 people arrested and 2 seriously injured
Thanks King Hamad for choosing the trick.